8:00am Shotgun Start at the beautiful Classic Club in Palm Desert!
 Saturday, March 21st, 2020
We invite you to join us at Stews Shootout for an enjoyable day of golf benefitting an amazing cause.  This is our 13th year and we are going to make it the best one yet!  There a three ways to help and you don't need to be a golfer!
1. Come on out and join us for golf (or just the lunch and auction)!
Golf at beautiful Classic Club in Palm Desert! Online registration is only $130 and includes 18 holes of golf, range balls, golf cart, lunch, and swag bag.  Lunch-only tickets are $20 and you'll be there for the helicopter golf ball drop and auction!  Last year we had our FIRST EVER HOLE IN ONE WINNER - JOSH MCGOWAN!
CLICK HERE TO REGISTER!
2. Be a hole sponsor and get some great exposure and build goodwill!
For those of you that are able to provide corporate or individual sponsors, we have two options for you!   
3. Make a donation to be entered into the Helicopter Golf Ball Drop!
A $10 donation gets you entered, and you can win up to $2,500!  Past winners are: Craig Duncan (2013), Leigh Harlow (2014), Denise MacDonald (2015), Ty Stroh (2016), Debra Spain (2017), Jana Andreotti (2018), and Dick Spinelli (2019).  
Will YOU be next? 
CLICK HERE TO DONATE AND GET ENTERED!
Event Location:
75-200 Classic Club Boulevard, Palm Desert, California 92211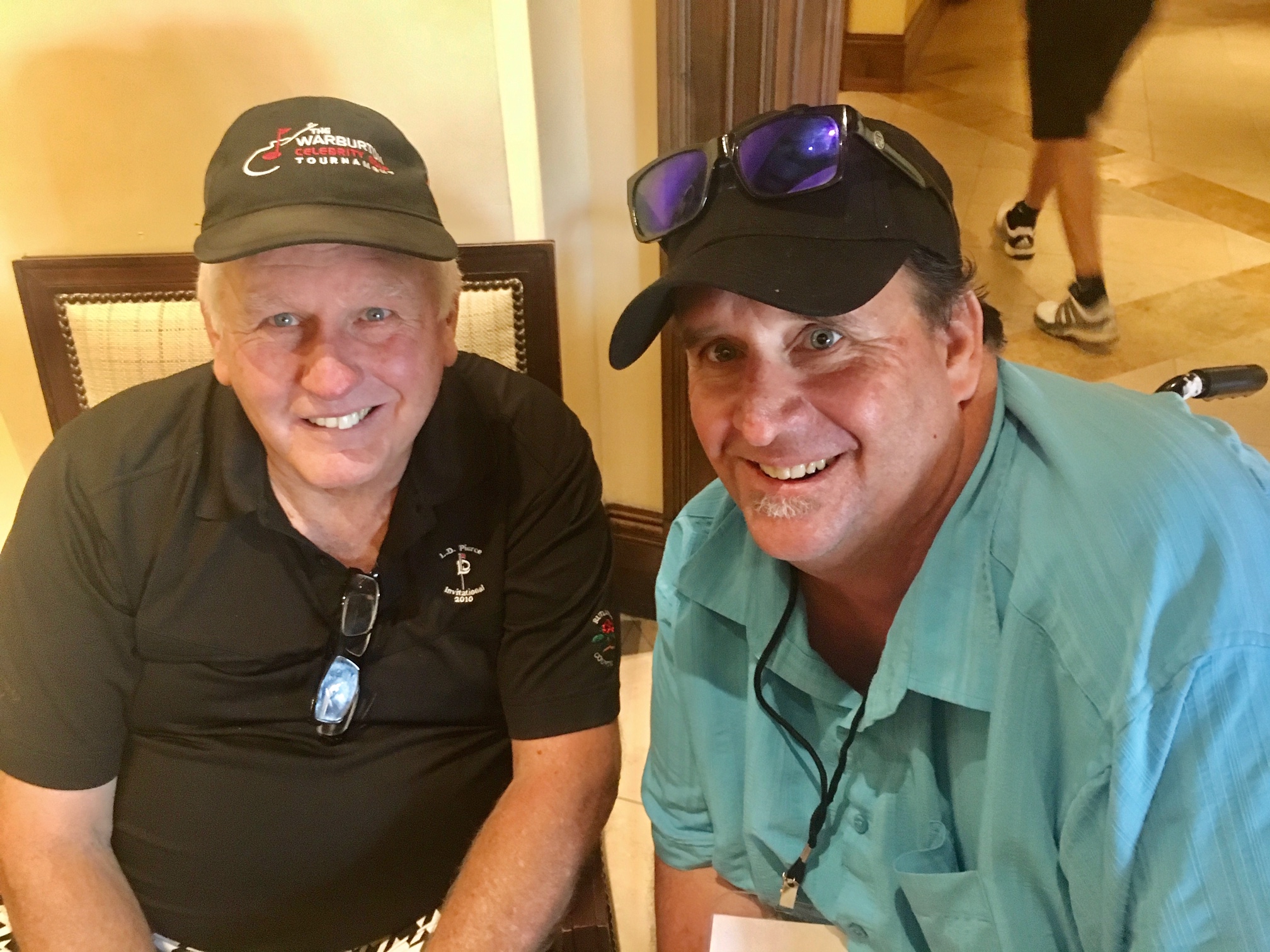 Pictured: Baseball Great, Tommy John & Casey Stewart
In 1999, Casey was attending culinary school in California when he began to experience flu-like symptoms including a severe headache, sensitivity to light as well as back and neck pain.  Casey was admitted to University of California, Los Angeles Medical Center where doctors diagnosed him with pneumococcal meningitis. After recovering in the hospital, Casey began pain management therapy and physical rehabilitation. He lost the use of his lower extremities and continues to experience pain and long-term medical issues from this disease. In 2004, Casey married his wife, Michelle. Beginning in 2007, Casey and Michelle hold an annual golf tournament to raise money to educate others about the disease in support of the National Meningitis Association.